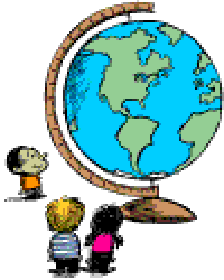 Activities for the Foreign Language Classroom
VER ESTA PÁGINA EN ESPAÑOL
At Harvard University, Howard Gardner (1999) has developed an idea that suggests that there are eight, possibly nine, intellectual variables associated with human performance. Gardner's intelligences include: Verbal/Linguistic; Mathematical/Logical; Musical; Visual/Spatial; Body/Kinesthetic; Interpersonal; Intrapersonal; Naturalist and Existential. The multiple intelligence idea is supported by the contention that the frontal cerebral cortex is made of thousands of modular units responsible for our conscious thinking, remembering and behaving (Gazzanaga, 1992). Constellations of modularities are responsible for the strengths or insufficiencies of individual intelligence. Modularities on the right and left cerebral cortex are interconnected through the corpus callosum. Modularities may vary in size, density, and connectedness which alters conceptual complexity among individuals. With this theory, some individuals could possess different language competencies due to their experiences.
For more information see GARDNER or Multiple Intelligences.
Click on each intelligence listed below for activities that can be used in the FL classroom.
Teachers tend to teach in the manner in which THEY learn best. Since vocabulary must be heard between 40-80 times (depending on the complexity of the word) before it is stored in long-term memory, language teachers must create learning experiences for their students that are centered around many different activities, using the National Standards for Foreign Language Teaching (1996) as a framework for lesson design. The multiple intelligence theory provides samples activities that language educators can use to create multiple experiences using language.

Remember, don't use the MI Theory to only create experiences in the areas where you and your students are strong. Use a variety of activities to facilitate language acquisition in all areas.
Gardner, H. (1999). A multiplicity of intelligences. Scientific American Presents. Vol. 9, No. 4, pp. 18-23.
Gardner, H. (1993). Multiple Intelligences: The theory in practice. New York, NY: Basic Books.
Click below to take the Multiple Intelligence Test and/or the Keirsey Temperament Sorter. Determine which intelligences you are strong in and which you tend to avoid. The Keirsey Temperament Sorter will also help you to understand your "teaching personality".
REMEMBER TO TEACH TO ALL INTELLIGENCES THROUGH A VARIETY OF ACTIVITIES THAT PROMOTE LANGUAGE ACQUISITION!
Index of Learning Styles
This 44 question quiz will rate your learning style on four dimensions: Active and Reflective Learners, Sensing and Intuitive Learners, Visual and Verbal Learners, and Sequential And Global Learners. Follow the "Learning Style Descriptions" link to interpret your results.
This instructive site can provide good insight into the way we, and our students, learn. Audience: College and Up.
ADDITIONAL ACTIVITIES FOR THE CLASSROOM