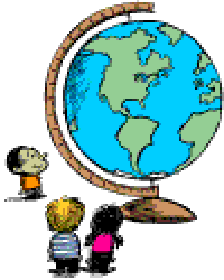 Activities for the Foreign Language Classroom
VER ESTA PÁGINA EN ESPAÑOL

Learning a new language is a difficult process for children and adults alike. Students of all ages must be allowed to explore and practice new concepts before they can realistically be expected to demonstrate proficiency. The mirror activity below can be used in your classroom to demonstrate the difficulties one encounters when learning a new concept.
MIRROR ACTIVITY
1. Divide the class into groups consisting of two students to a group. Each group will need the handout (download the language version you wish to use below), a pencil or pen, a book or piece of cardboard, and a hand mirror.
2. Place the handout on the table or desk. One student will hold the cardboard or book above the handout (in the air) and then the mirror on the other side facing them. In other words, the handout is on the table, the book or cardboard piece is being held above it with enough room that one could hold a pencil and actually write underneath it, and the mirror is out in front of both students so that they can see what is written on the handout when looking into the mirror. It is really important that the student who is writing what the handout prompts cannot see his/her hand (so the cardboard or the book held above the handout covers the view of the sheet as well as the students hand). This is kind of tricky so practice doing this so that you can demonstrate it to the students when explaining the directions!
3. Ask students to try to complete the handout, following the directions as indicated on the sheet.
4. After all groups have completed the assignment, discuss the difficulties and successes experienced by all as a class.
*This activity demonstrates many different concepts.
First, it demonstrates how prior knowledge can cause negative feedback. We already know how to write and how to do things while looking in a mirror......however, it is very difficult to write while looking in the mirror because our prior knowledge interferes with our ability to do this.
Second, it shows how somethings cannot be taught--they must be experienced in order for one to master them. For example, students have to become familiar with a subject--explore and practice the concept(s) before they feel comfortable.
Third, emotions are a very important factor that influences learning. Did any of the students give up? Frustration and anxiety occur when trying to solve a new problem. Only after the break through when the problem can be solved does the student feel good about the task.
*SUMMARY:
Teachers: When the perceptual field narrows and the L2 learner feels stressed or threatened, they become less flexible, revert to routine behavior (such as speaking their native language instead of working with the new language you are trying to teach them to speak), and have difficulty processing new information. Remember what it was like to learn a new language....or if it has been to long ago to remember....think about how you were able to be successful with the mirror activity!!!!!! Provide your students with many different activities and opportunities in order to master new concepts in a hands-on manner!
Students: LEARNING A NEW LANGUAGE WILL NOT BE EASY, BUT YOU CAN DO IT WITH PRACTICE AND DETERMINATION.......JUST LIKE HOW YOU WERE ABLE TO WRITE IN THE MIRROR AFTER MANY INITIAL ATTEMPTS THAT MAY HAVE FAILED!!!
Click on the language version you would like to use in your classroom!
Students need to be provided with "memory hooks" that assist in vocabulary retrieval. Using dynamic classroom activities combined with activating questions will facilitate the creation of easily retrievable memories! Personalized instruction that uses real-life situations (through drama and TPRS) make emotional connections and is a very effective teaching strategy for the language classroom.
Visual games involve limbic functioning as well as visual memory. These types of learning activities are the mental counterpart to memory and make learning a fun, enthusiastic and challenging experience. Always avoid using a written word list as an introductory activity....word lists are more appropriately used for review after the vocabulary words can be recognized in writing.
Activities that take advantage of patterns and context in order to create meaningful connections to previously learned concepts great vocabulary builders! Examples of activities that do this are: grammatical patterns displayed by verb mobiles and shoe verbs; sentence patterns--gender and number; semantic mapping and webbing; etc.
FUN Activity: Use the monster activity below to create different lessons that utilize all the multiple intelligences. Divide the class into small groups. Cut out the flashcards-- Monsters --and have student groups use them as prompts for different activities such as conversation (describing where the monster is from; categorization (which monsters have feet and which have wheels); writing descriptions (what does it eat, how does it live); etc.
Let me know how these activities work in your classroom!!
Email tkennedy@globe.gov